Safari lodges in Tanzania located at the areas in the heart of the Serengeti, where all game safaris drive, balloon safaris, and catching planes take place every day of the year. We have a selection of safari lodges in Tanzania which allow you to see animals from the windows of your rooms. The Safari lodges we offer correspond with those of the western deluxe hotels. There are Lodge chains such as Serena hotels and Sopa lodges and a few other privately owned safari lodges and tented camps keeping a very high standard of services. Reasonable safari lodges that we use, such as the Eileen's Tree and Umali Lodges are of a good standard for those who do not wish to spend the nights in luxury lodges and hotels.
Safari Lodges and camps of this standard are situated inside the parks and reserves or at the outskirts and facilitate most safari itineraries. The safari vehicles we use on tour are safari land cruisers with popup open roof hatched for easy animal sightings.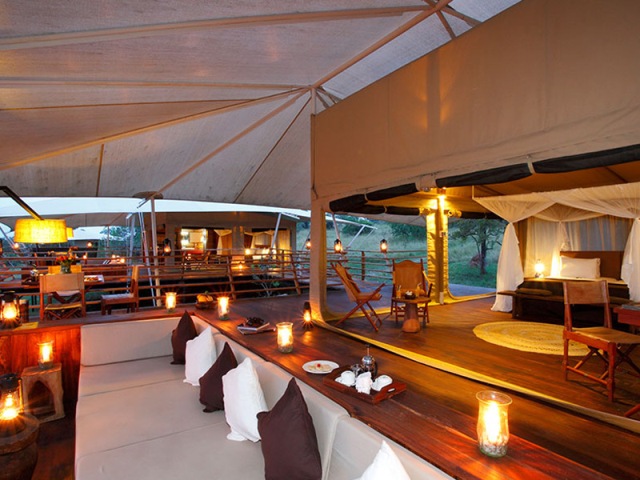 How Safari lodges in Tanzania and hotels are?
Each lodge has a dining lounge where you can join with other visitors before dinner and have a glass of wine or beers to refresh yourself while evaluating the ending day, this time is when you can ask your safari driver any question you may have after a long day. Exchange with other guests before you stay down to for the prepared dinner. All lodges offer many kinds of drinks including alcoholic drinks such as beers, wines and champagne, sprits, and brands, Liqueur, Rum, Gin, Vodka and Whiskey etc and non-alcoholic mixers such as water, juice, sparkling beverages, coffee, chocolate etc.
Dinner is offered either on delicious 3-course menu basis or buffet with a great selection of variety foot to choose from. The lodges cater for any types of customized menu and can accommodate any kind of diet requirement including vegetarian and religious menu. Safari lodges in Tanzania. Safari lodges in Tanzania.