Tanzania Camping Safari – the advantage of Tanzania camping Safaris is that, you will spend overnights inside the park so you will have full days for animal viewing, the parks are open from 06:00 am to 06:00 pm so the choices are yours timewise increasing the chances of seeing the big 5 where Elephants and buffaloes will be among the first animals to welcome you to the park on the first day of your visit while lions require no effort to find them, the Rhinos are residents inside the Ngorongoro crater making it possible to be seen while leopards can be seen in Serengeti being powered by our efforts to find them and a little bit of luck. All of our Tanzania camping Safaris are none driving mileage tours between the locations you will be visiting. Our safari cars are equipped with radio calls making it easy to locate the animals by getting in touch with our other safari drivers.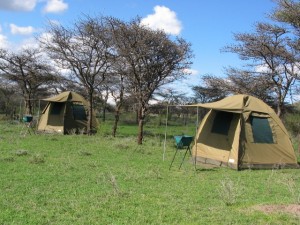 What you can expect and how the campsites are?
You will be staying in public campsites, located inside the parks or on private campsites located on the outer edge. The campsites in the parks are not fenced we only pitch the tents on the camping grounds and usually you may see elephants roaming between the tents or the antelopes knocking on your way to the washrooms.
Our camping accommodations are provided in spacious pop-up tents in which the mattresses are laid on the built in groundsheet, the tents are waterproof each can accommodate 2 persons in and all the tents are with built-in mosquito nets at the entrances and windows to keep off insects. 5 cm thick sleeping mattresses are provided for each client in a shared or private tent.
All preparations at the camp are made by camp crew on arrival at the campsite. Guests are welcome to help to set up the tents. There are toilets with running water at each campsites, the solar power is available at every campsite for lights and electronic recharging. Our safari vehicles also are equipped with complete charging system to enable you charge the cameras throughout the safari. All of our camping safaris' equipment such as tables and safari chairs, mattresses and cooking utensils are provided. Our camping equipment is of higher quality, frequently checked and tuned-up. You will only have to bring soaps and fragrant. The camp grounds are shared by groups usually from different countries and companies; you will enjoy your dinner in the dining hall or at the campfire outside while making some fans with friends or enjoying your personal wine or beers.
On your Tanzania camping Safari you will also be accompanied by a trained safari cook who will be cooking for you. He will make all preparations of all meals including a packed lunch boxes for a picnic lunch so you will not drive back to the camp for lunch instead you will spend the full days for animal viewing. Early morning eggs, sausages, coffee and bread, snacks, evening's stews and salads are all prepared for you by the safari cook, Tanzania Adventures' cooks can make delicious 3-course meals in the wilderness using only a cooking gas and sharp knife… so you just relax and enjoy your holiday. We use professional, quality camping equipment and food is plentiful and delicious.
Itinerary – 5 days Tanzania camping Safari.
Day 1: Arusha to Serengeti via Lake Manyara view point.
Pick up from your hotel in Arusha at 08:30 am and depart to Serengeti with a stopover at Lake Manyara viewpoint for some pictures.
The driving time from Arusha to Serengeti is 6 hours with some stops on the way, as you will be driving through many animals such as giraffe and elephants that can be seen en-route.
You will have lunch at Naabi gate while waiting for the driver to register for the entrance to Serengeti, Then driver toward northern Serengeti for the evening game drive.
Dinner and overnight at Nyani Campsite full board.
Day 2: Serengeti National Park.
Early in the morning leave the camp for sunrise game drive in the Serengeti for about 2-3 hours. If luck can see the night animals still active and predators hunting or a lion kill then drive back to the camp for breakfast before you continue with afternoon and evening game drives in Serengeti national Park.
Dinner and overnight at Nyani Campsite full board.
Day 3: Serengeti National Park.
Early morning breakfast then start full day games drive in Serengeti National Park. This will be a picture day as you will be surrounded by thousands of wildebeest just a stone throw between you and the animals, predating animals are also abundant in the areas because of availability of herbivores (wildebeests, topi, zebras etc).
Dinner and overnight at Nyani Campsite full board.
Day 4: Serengeti to Ngorongoro Crater.
Early morning games drive in Serengeti National Park, after lunch drive to Ngorongoro Crater rim for overnight.P
Dinner and overnight at Simba Campsite full board.
Day 5: Ngorongoro Crater to Arusha.
After an early breakfast, descend into Ngorongoro Crater floor for a day games drive with lunch at Ngoitoktok hippo poll. Late in the afternoon, ascend to the crater rim for Arusha for new plan.
Dinner and overnight: None.
In addition to this Tanzania camping safari you can have a look to lodge safari