Mount Kilimanjaro Trekking  (5895m, 19340ft.).
Tanzania Adventures lead more than 400 Climbers up Mt. Kilimanjaro every year on different trekking routes, the treks are conducted professionally from either the town of Moshi or Arusha and start any day of the year, safety is our main concern!
Mount Kilimanjaro is the highest on the African Continent and the first freestanding mountain in the word, the mountain has three peaks, Mawenzi, Shira and the Kibo. Kibo is the last erupted and it is covered by the snow makes it popular in the neither equator where the snowfall is nor common. Uhuru peak that stands high at 5,895 is reached by trekking on six authorized Climbing routes namely:
Marangu Route – the easiest and most comfortable way to the summit, you sleep in huts.
Machame Route – fantastic scenery, physically demanding, this is our most popular route.
Lemosho Route – This is a great option if you want a longer trek for acclimatization.
Rongai Route – one of the easiest route to the summit and has very few people on it.
Shira Route – runs parallel to the Lemosho route at the beginning but starts much higher up.
Umbwe Route – a very short and direct route, not recommended to people with little altitude experience.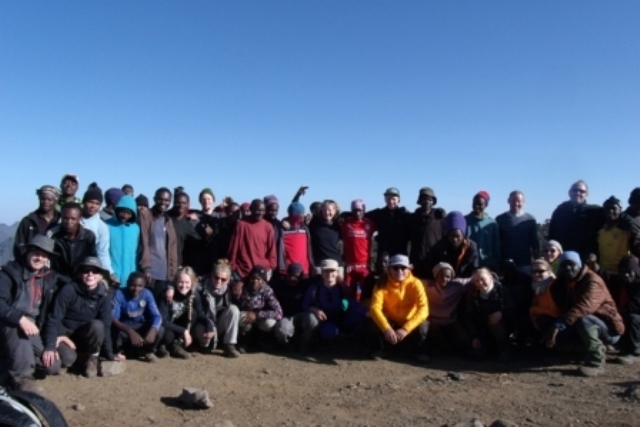 There is also the less known among mountaineers, but just as attractive as Kilimanjaro is Mount Meru's peak rises to a height of 4.566m and is only 80 km away from Mt Kilimanjaro and 1 hour drive from Arusha. The spectacular landscapes of the mountain slopes offer protection to wild animals, such as buffaloes and giraffes and make the 3 – 4 day treks an adventurous trip. Other mountains in northern Tanzania are Mount Lomalasin (3648m), Oldoinyo Lengai (2878m), Mt Hanang (3417m) and Longido (2637m).
We have tour programs for trekkers with no summit ambitions in Tanzania. For travelers with fixed time while in Tanzania can take one of our day trips to Tarangire, Lake Manyara, Ngorongoro crater and Arusha National Parks or choose from many cultural and walking tour options in our website. For people with enough time to go wild we have variety of tour itinerary from 3 – 7 days for short safaris and longer tours can last up to 21 days or more, just call or email us to provide us with your likes we will shape the program for your memorable trip to Africa.
Trekking – Mount Kilimanjaro trekking (5895m, 19340ft.).